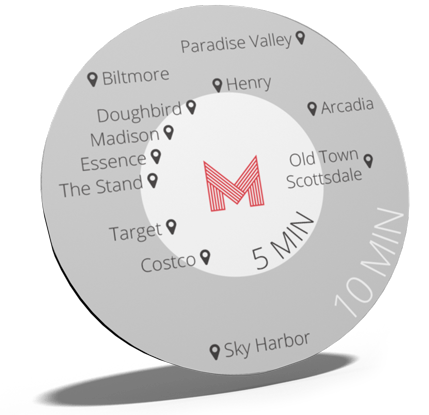 Boutique Flex Offices in Phoenix, Arizona
The Marilyn is a full-service workspace solution. We offer fully-furnished private offices, with a menu of additional pieces depending on your needs, as well as many amenities including high-speed secured Wi-Fi, access to conference rooms, and a helpful Concierge service. Our common areas feature comfortable lounge seating and work tables for informal meetings and work sessions. 6- and 12-month Service Agreements are available, with the flexibility to expand or contract your space as your business evolves.
Shared Workspace
If you don't require a private office and want to be part of a dynamic work environment, and for small businesses looking for overflow and seasonal space, be a part of The Marilyn's Shared Workspace. This desk-based solution includes a private desk, secured storage, key card access, use of our mediated conference rooms, and full access to The Marilyn's amenities.
Ideal Location
Just minutes away from Old Town, Arcadia, the Biltmore, Sky Harbor, and so much more. See us on
Google Maps
.